Enhancing Society Together
Enhancing Society Together is focused across five themes through which we believe we can have the biggest impact. Each theme connects to identified United Nations Sustainable Development Goals. The themes are climate change; biodiversity and natural systems; resources and circularity; social value and equality; and safety and well-being. Year by year, we seek to accelerate our efforts to meet the increasing urgency of environmental and social challenges.
During 2022, we took concrete steps to embed our purpose Enhancing Society Together further into our business and operations. Our governance and coordination structures were refined. Experts and sustainability specialists across our five Enhancing Society Together themes worked closely with leading market teams. We embedded Enhancing Society Together in our processes and our communications, raising it with clients and external stakeholders. A new Purpose Matrix assesses the impact of projects, proposals, products and services against each theme. It attracted high engagement and positive feedback from clients and colleagues during the rollout across the company and has been integrated into our project management processes and systems. It is also being used to challenge ourselves and our clients for more sustainability, and to inform project vetting. With our baseline measurement complete, we will set tangible ambitions for the future.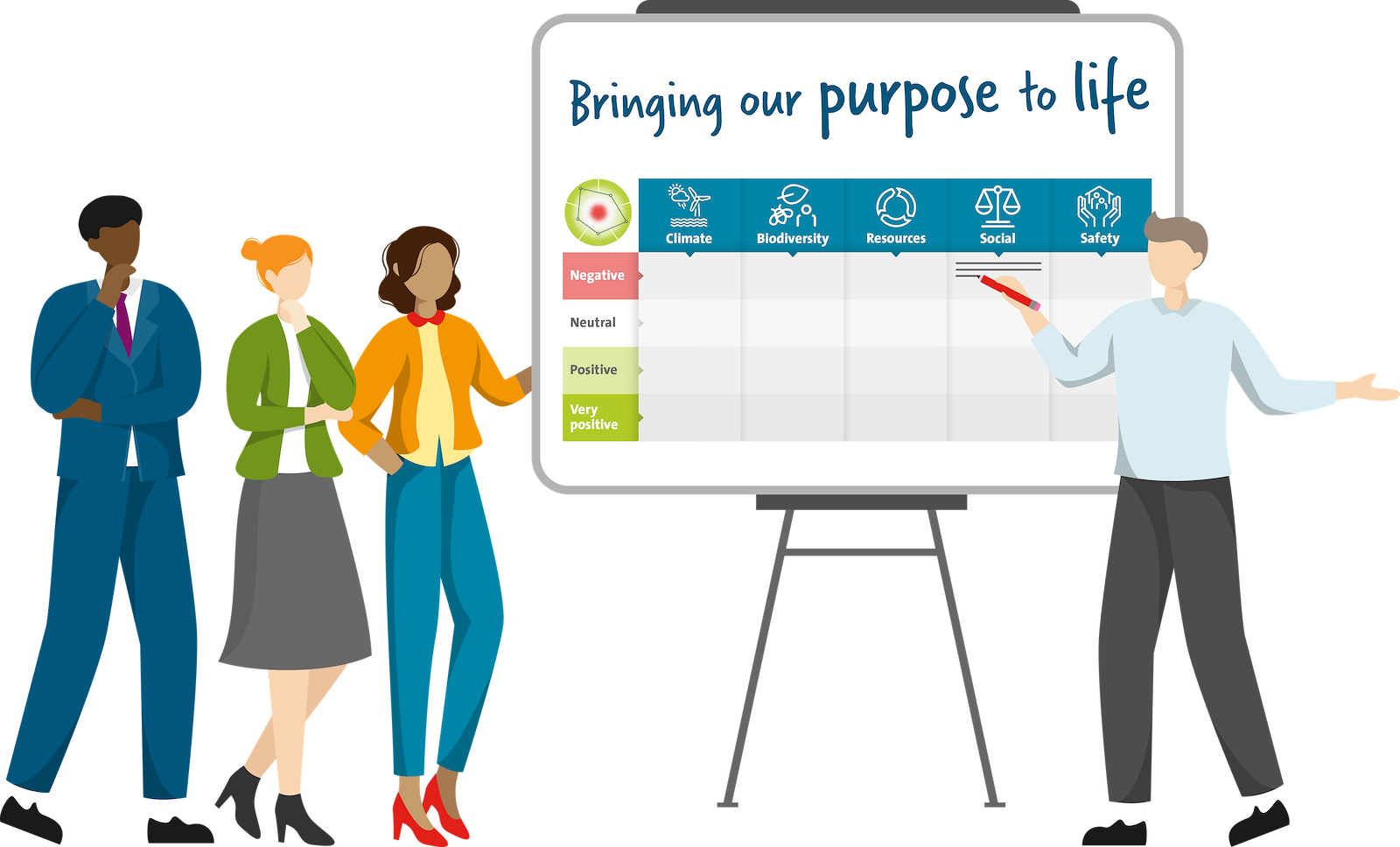 We launched the Enhancing Society Together award which attracted more than 60 projects from across our organisation. After votes were cast to select a winning project from each region, the global winner, Green Volt Floating Offshore Windfarm, was announced in January 2023. Within our organisation, we have made good progress on our own net zero emissions targets, supported by a net zero travel policy launched at the beginning of the year.
To raise skills and consistency in our approach to sustainability, we have been developing an Enhancing Society Together Academy. The Academy will provide guidance on systems thinking, biodiversity, circularity, and other themes. It will launch in 2023. Also in 2023, we will focus on strengthening the interface between sustainability and digitisation in the way we work and in the products and services we offer clients. This includes parametric design around life cycle analysis and the ability to optimise designs for sustainability dimensions, as well as digital projects across our markets. Climate change will continue to be in sharp focus across society, bringing with it demand for decarbonisation and resilience in our projects.