Monitoring the wellbeing of our colleagues
The health, wellbeing and resilience of all colleagues are our top priority. Following the employee resilience survey we started in May 2020, a new survey was organised in 2021. With the survey, we monitor the wellbeing of our colleagues in all regions where we operate, and define appropriate follow-up actions.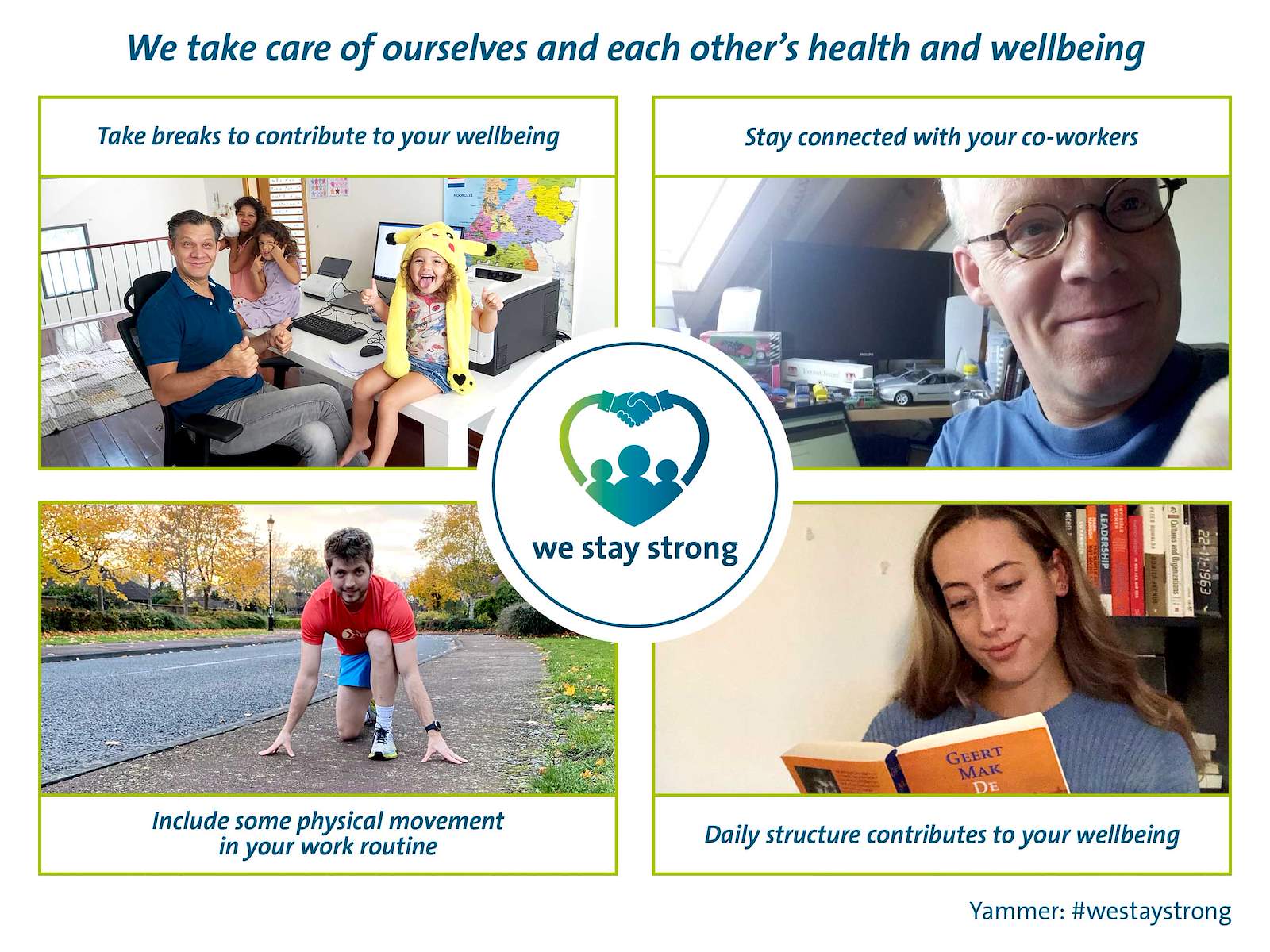 Internal campaign to improve wellbeing of our employees
Inspiring events organised by YOUNG Royal HaskoningDHV
During 2021, YOUNG Royal HaskoningDHV organised various inspiring events, such as a Sustainability Symposium with the Province of Zuid Holland. In addition, lunch sessions were held to discuss issues such as: talent retention within our company; improving engagement between younger and more experienced colleagues; and investing in company shares. Many young colleagues joined together during World Cleanup Day, described in our Annual Report Chapter Enhancing Society Together. With many colleagues working remotely during the year, activities such as virtual quizzes, games and some outdoor events were held to keep people connected and strengthen their networks. Read here about the organisation and goals of YOUNG Royal HaskoningDHV.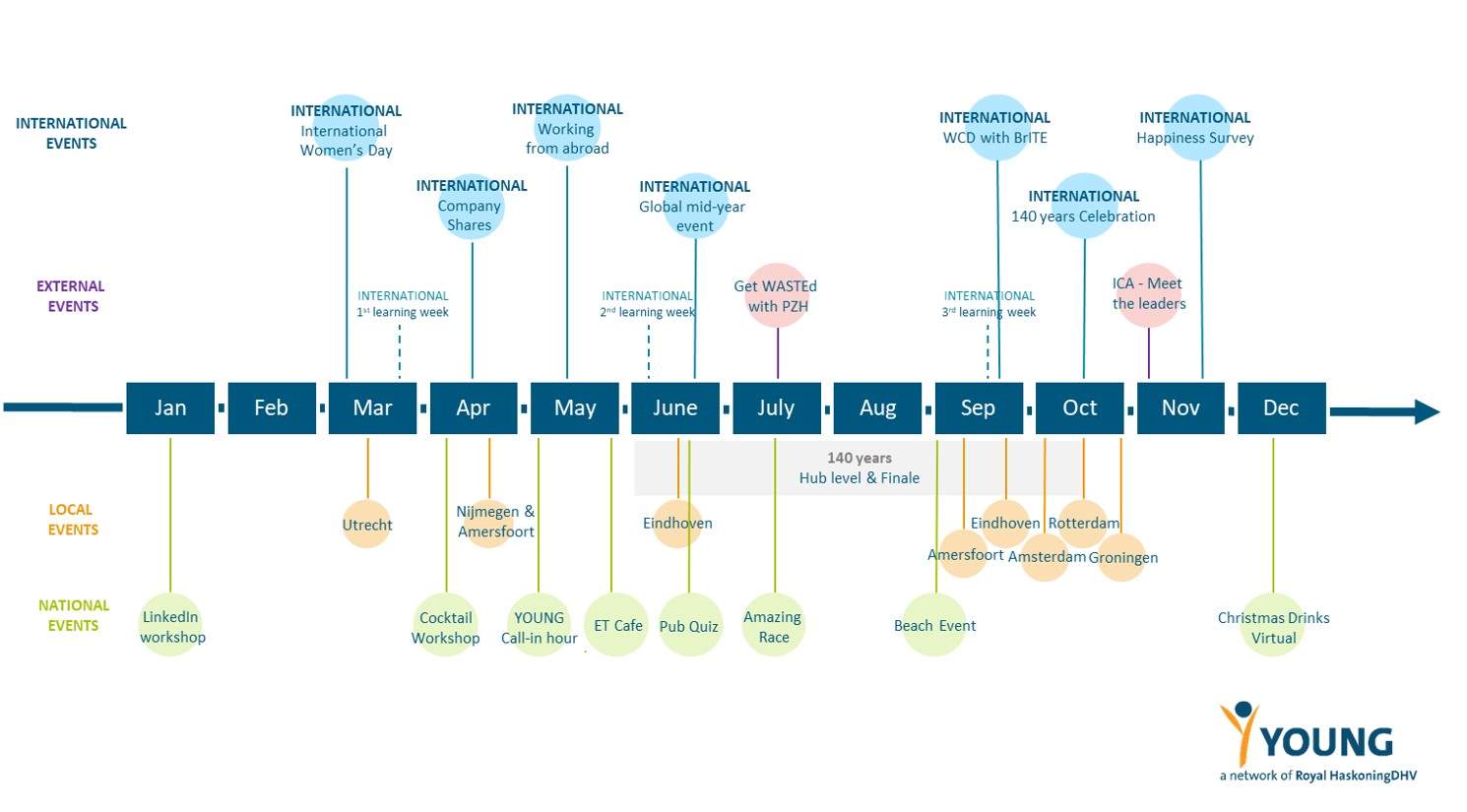 The events of YOUNG Royal HaskoningDHV in 2021.
Training to achieve a healthy balance between work and private life
Working from home has brought benefits to many colleagues – particularly in time saved from the daily commute. However, it's also brought challenges, one of which is establishing a healthy work-life balance. A training programme helped colleagues recognise the issues and identify solutions.
Working from home can encourage a very sedentary lifestyle when there is no need to travel to a place of work. To counter this and contribute to physical and mental wellbeing, the Mental Health First Aiders team in the United Kingdom arranged yoga sessions for staff. A yoga teacher ran a number of sessions via Teams. These were recorded enabling staff to continue the activity at times convenient to them.
Bring your true selves to work
We're working every day to provide an enriching work environment for all. We encourage individuals' skills, strengths, and perspectives to be heard, used, and amplified. We strive for a collaborative, equal environment where everyone feels comfortable bringing their true selves to work. Read more in our Annual Report Section Our People about our commitment to breaking down barriers and supporting colleagues and clients.
Inspiring colleagues by sharing dreams and achievements
Working from home impacted the engagement of our employees. They missed the social and spontaneous aspect of connecting with colleagues in the office. Several online initiatives took place to mitigate this and to keep inspiring each other:
Our YOUNG Royal HaskoningDHV colleagues created and shared a podcast interview series "How is … doing?" in 2021 for young colleagues, making 48 episodes to inspire and engage. The series started in April 2020 and has enabled many colleagues to share stories about their life, their dreams, what drives them and what they hope to achieve – as well as explaining more about their daily activities working for Royal HaskoningDHV.

Serendipity calls and other online events to stimulate engagement (shared here in our Annual Report)

Every month, architects come together for a meeting where they talk about projects and other things that inspire their work. In the last meeting of the year every architect could send in their favourite project of the year. They had to explain in one minute why this project was their favourite.
The final architects meeting of the year.
Workshops during our quarterly Learning Week
In every learning week we ensure there are workshops and trainings around health and well-being. Examples include: mindfulness, mental resilience, keeping your batteries charged and fit at your desk sessions.
Healthy and sustainable working environment in the Netherlands
We are working on sustainable catering, promoting healthy (high fibre products, vegetables and fruit) and vegetarian food and seeking to reduce waste. In our company restaurant in Amsterdam, the range is completely vegetarian. A limited number of meat options are served in four other offices in the Netherlands. At these offices, we held a week without meat in March and a meat-free day in October coinciding with national awareness campaigns. We favour circular, organic catering products such as tomato ketchup and soup from 'rescued' vegetables, mushrooms grown on used coffee grounds, and a wider range of whole wheat bread. We continue to use UTZ certified coffee and tea in the Netherlands. 
We continue to stimulate healthy catering in the Netherlands
We continue to stimulate healthy products in our NL offices restaurant run by external caterer (Hutten) for our employees.
When prices rose in 2021, we chose to raise the price of (unhealthy) snacks and reduce the increase for healthy food.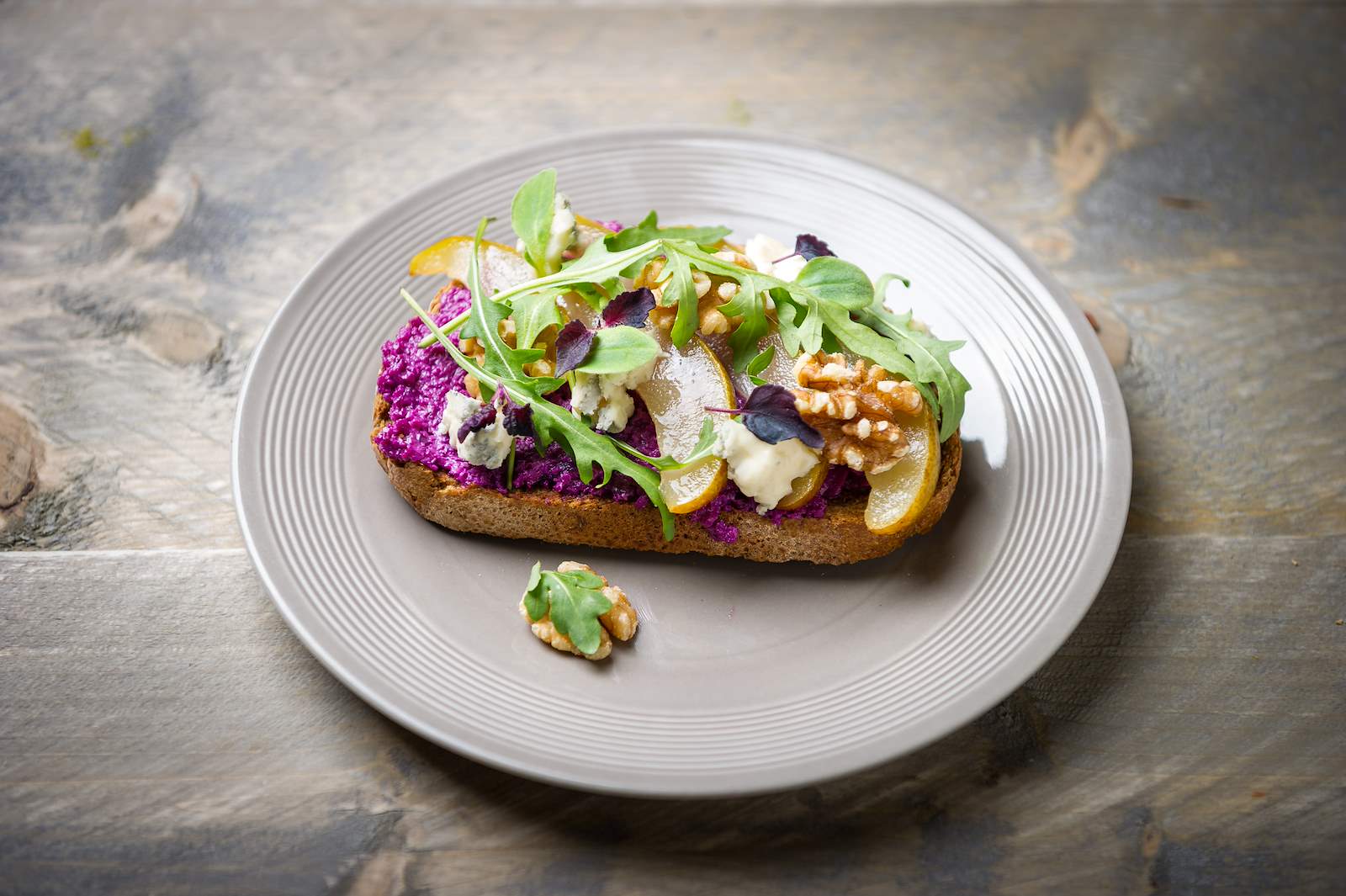 Example of healthy company catering served in selected offices in the Netherlands - copyright Hutten B.V.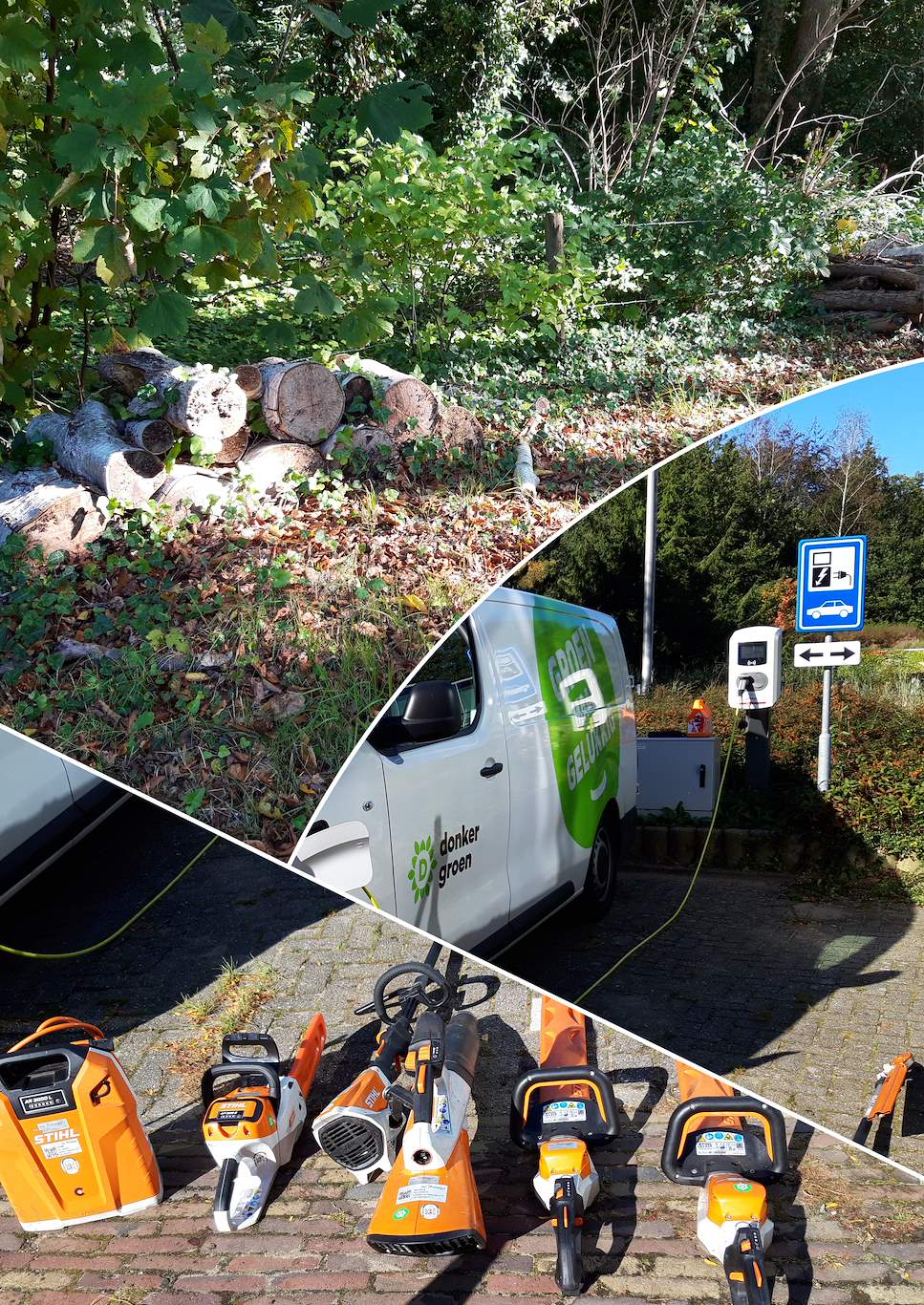 Initiatives for healthy and sustainable offices in the Netherlands
An increasingly important factor in selecting offices is the availability of green, natural areas to support employee wellbeing and provide outdoor space for meetings and physical activity. Green waste produced in grounds maintenance is kept on location as much as possible to retain natural nutrients and avoid transport emissions. At our Amersfoort head office, all appliances, hand tools and the utility vehicle used by the maintenance team are electric powered – the figure is 75% at Eindhoven. To support biodiversity, non-toxic weed control is applied on paved surfaces for example, and we have insect hotels at Amersfoort, Groningen and Rotterdam.
Our cleaning company uses sustainable products for interior and sanitary cleaning, and seeks to minimise cleaning agents through the use of microfibre technology. Environmentally friendly products are also used by our cleaning company in the United Kingdom.