Our Corporate CSR Structure
Corporate Social Responsibility (CSR) is fully integrated into our activities. It is led by senior management from strategy to delivery.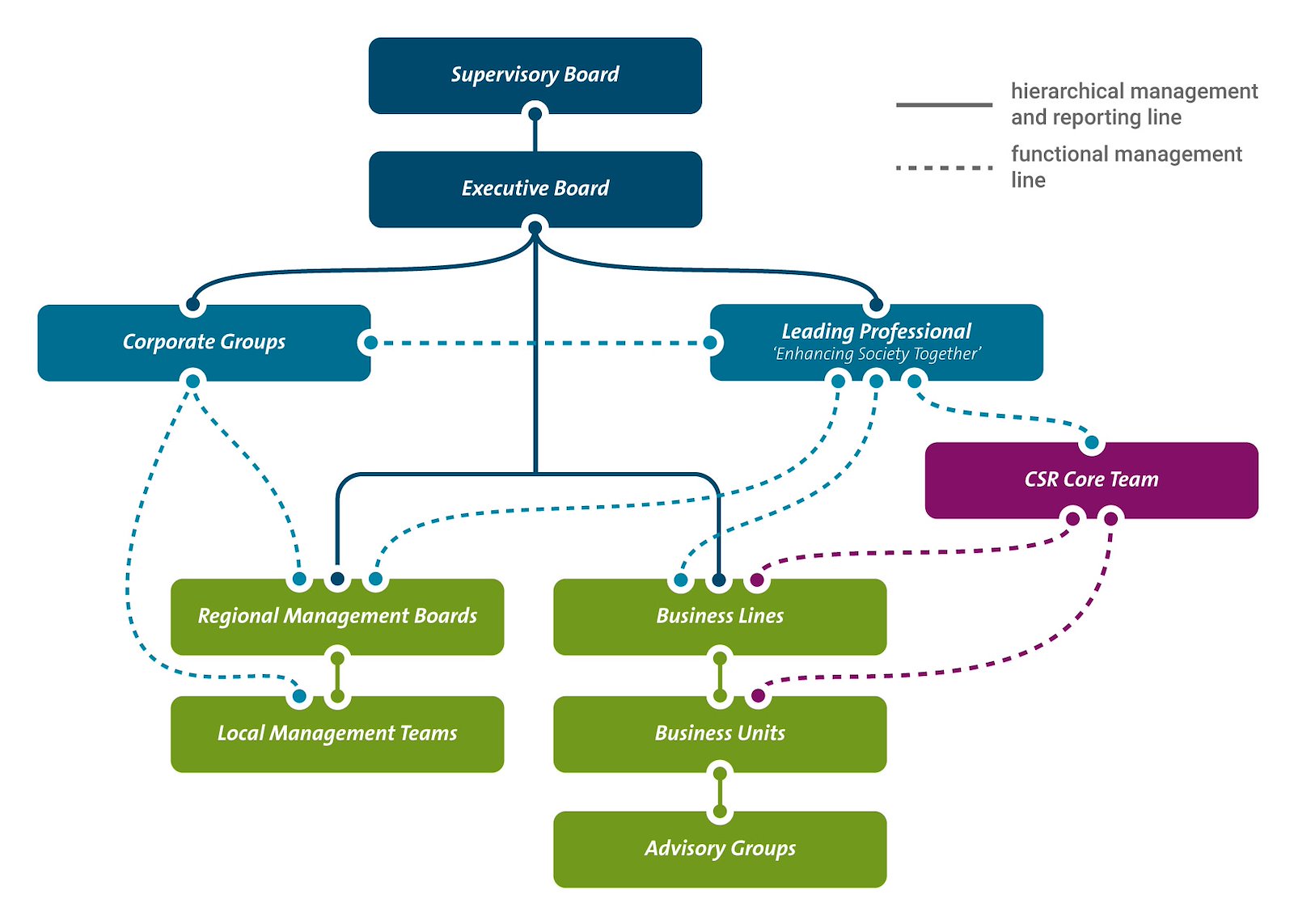 Our corporate CSR structure
Our CEO Erik Oostwegel spearheads our commitment and discusses strategic relevance with Supervisory Board and Shareholders (the Stichting (foundation) HaskoningDHV and the Stichting Administratiekantoor HaskoningDHV ("the Trust Office")), among others. 
In 2021 Matthew Hunt was appointed Leading Professional for Enhancing Society Together. He is translating the company's sustainability strategy into clear priorities, leading implementation, and encouraging and driving change across our business. He is currently working together with the businesses and corporate groups to address their contribution.    
Our Sustainability Policy Statement and key ambitions for the development of the company are evaluated annually by our QHSE department (and approved by our CEO).
Business Line and Corporate Group Directors incorporate CSR into their activities, supported by relevant business and corporate group sustainability leads.
Regional Management Boards and Resident Directors take responsibility for local CSR plans and actions which are based on our internal CSR programme called the CSR  Charter/Programme. CSR is also managed at a functional level across our strategic and operational areas.   
The CSR Core Team serves as the central coordinating body for our CSR strategy, benchmarking and reporting. Chaired by our Leading Professional Enhancing Society Together (Matthew Hunt), it includes representation from senior leaders and specialists.
In addition, we have a network of internal ambassadors who increase awareness among our employees. Each business and corporate group has themed focus areas in their overall and/or separate CSR plans and actions which align to the Sustainability Policy Statement priorities. These include, for example, the realisation of carbon reduction goals in projects and operations. The results are shared in management reports, internal communication channels and tools, team meetings, and in our Annual Report and CSR Report.
CSR is also integrated in our company and way of working via several integrated management processes and systems, which are verified and certified by internationally recognised bodies, as presented in the subsection Principles, Standards and Certifications. Our standards for QHSE and Integrity which form part of our Integrated Management System are explained in the subsection CSR and Integrity Governance Structures. Our Information Security Management System is explained in the subsection Cyber Security and Personal Data Protection.