CSR and Integrity Governance Structures
CSR is at the heart of who we are as a company. It is part of our approach across all aspects of our business and the way we work. It is encapsulated in our brand promise: to Enhance Society Together. Governance structures for CSR and Integrity define and guide this approach. It is integrated in our way of working via our Integrated Management System and covers our QHSE Management, our Compliance Integrity Management and our Information Security Management. Our Integrated Management System ensures all employees follow common working practices.
Integrated Management System  
Our Integrated Management System enables us to deliver quality products and services to our clients across the world based on common working practices. It covers quality, health & safety and environment, as well as integrity, business continuity, knowledge management, information security, data privacy and our business principles.
The Integrated Management System is based on and certified against international standards: ISO 9001:2015 (Quality), ISO 14001:2015 (Environmental), ISO 45001:2018 (Occupational Health & Safety), ISO 37001:2016 (Anti-Bribery) and ISO/DIS 37301 (Compliance).
As a result of audits done in 2020 and 2021, our ISO 9001, ISO 14001 and ISO 45001 certificates remain valid until September 2022.
Eurocompliance is our certification body for ISO 37001:2016 (Anti-Bribery) and ISO/DIS 37301 (Compliance) certificates, which are valid till November 2023. Before the ISO standards were in place, we held the Anti-corruption Compliance System Certificate issued by ETHIC Intelligence since 2010.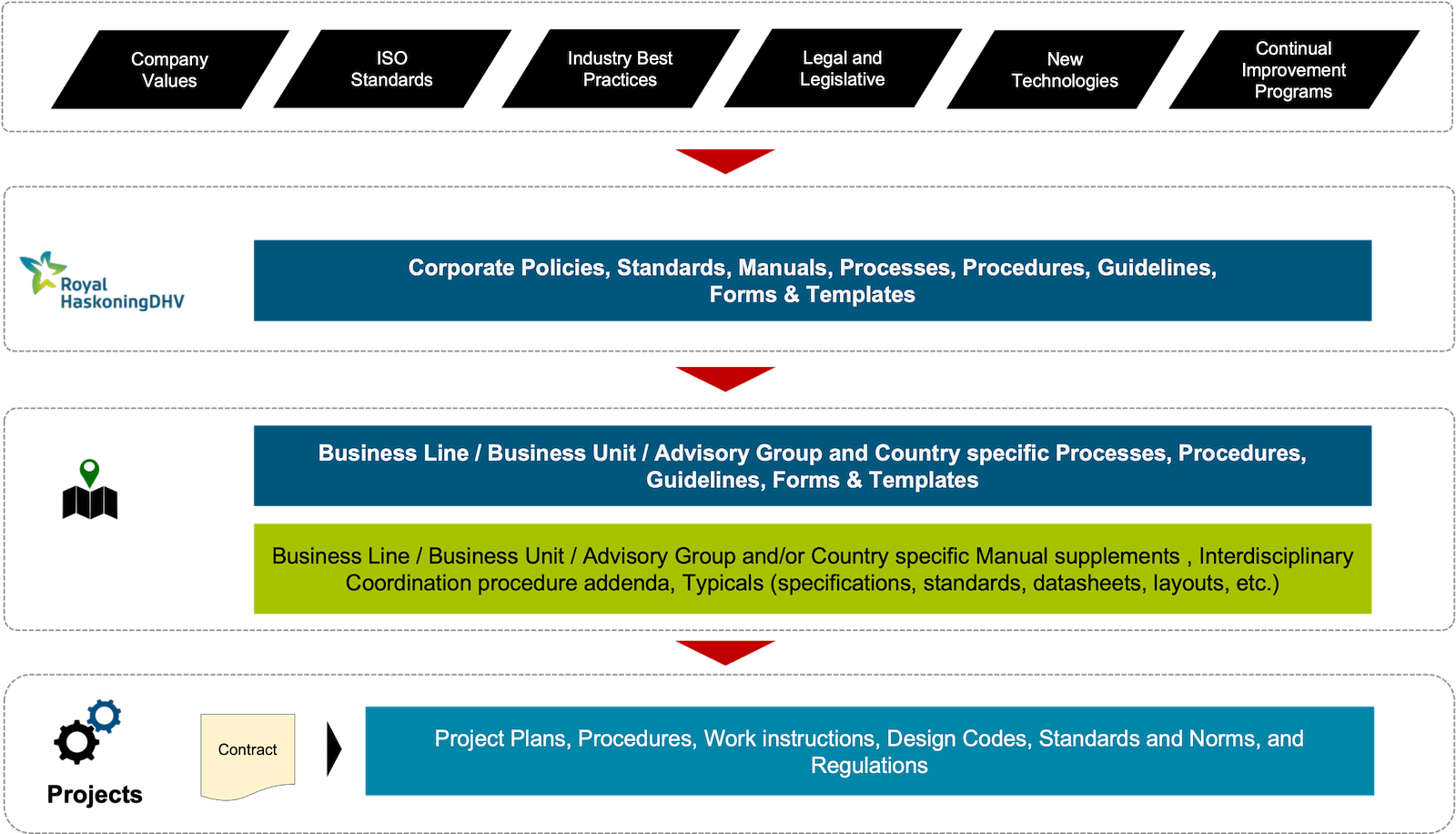 Integrated Management System
Royal HaskoningDHV acts ethically and with transparency in our business dealings. We have a zero tolerance towards bribery and corruption, and we aim to meet and surpass standards for international best practices. Our commitment to decent behaviour and integrity is integral to our culture, rooted in our vision, mission and core values. Integrity is communicated through our Global Code of Business Principles and our Compliance Integrity Management, which are ultimately owned by the Executive Board.
Compliance Integrity Management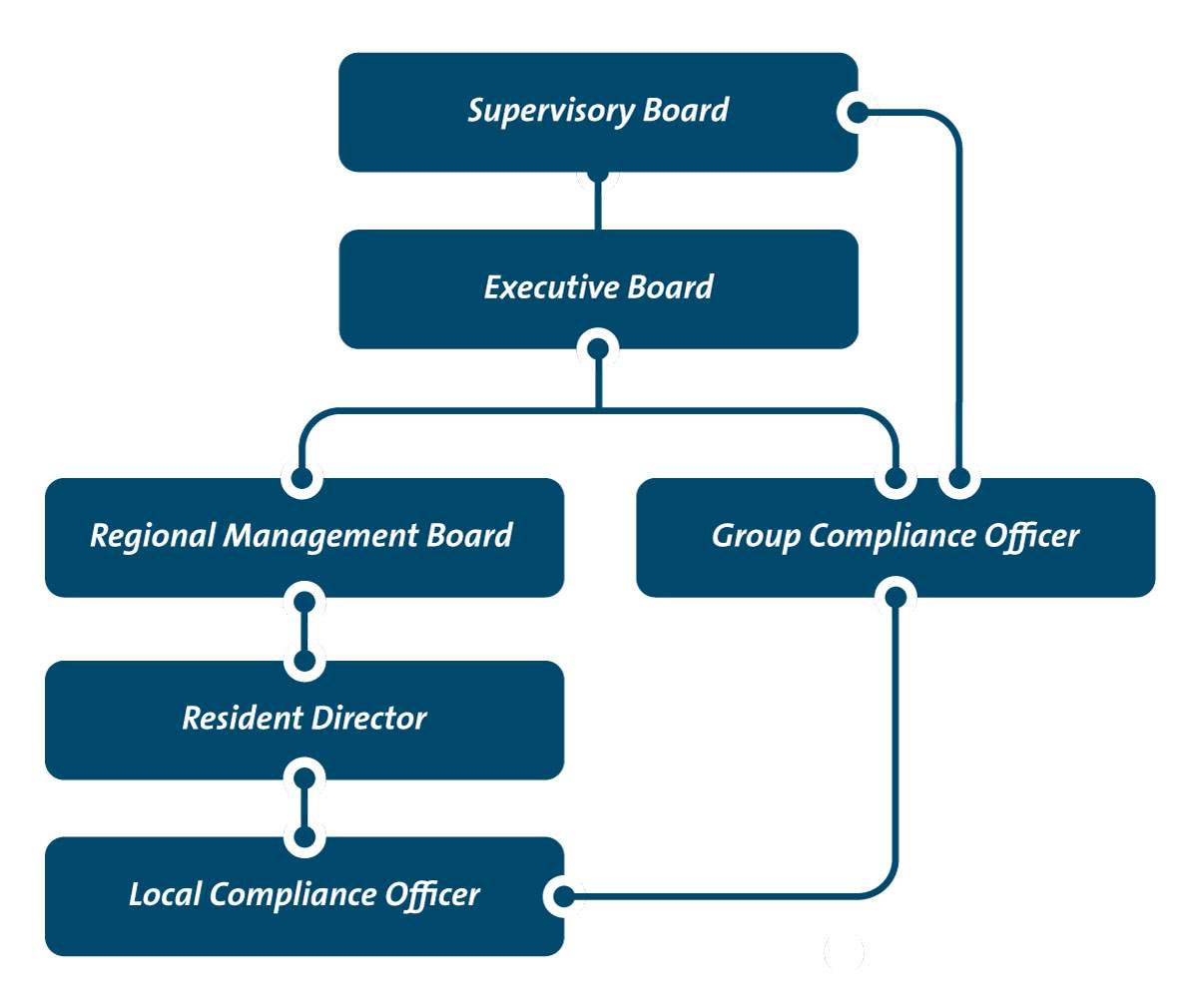 Our Integrity Management Structure
Our Compliance Integrity Management safeguards the integrity of Royal HaskoningDHV and its employees. It is embedded throughout the company. The system describes the scope of compliance, the organisation structure and the reporting lines to ensure compliance with internal policies and legislation. The Group Compliance Officer and Local Compliance Officers form an integrated part of the system. The Group Compliance Officer reports to the Executive Board and has the authority to escalate any serious matter to the Supervisory Board. The 18 Local Compliance Officers are the local representatives for any compliance related matters. 
The system also explains our internal policies regarding ethical conduct and business practices. It includes guidelines to help employees deal appropriately with a broad range of topics like human rights, labour and social standards, anti-corruption, environmental protection, privacy and data protection.  
Cyber Security and Personal Data Protection
The security of data and information, protection of privacy and safeguarding uninterrupted operations receive ongoing investment, focus and effort, as described in our Annual Report Section Cyber Security.