Principles, Standards and Certifications
As an international company, we are guided by several principles and standards, as presented in our Annual Report Section Integrity and our website. Additional information on a selection of the principles, guidelines, standards, regulations and certifications can be read below.
Certified Compliance Integrity Management System
Our Compliance Integrity Management System has been audited and certified since 2010. As of 2020, we are compliant to international ISO standards and have been assessed and certified as meeting the requirements of the ISO 37001 standard for our Anti Bribery Management system, as well as meeting the ISO 37301 standard for our Compliance Integrity Management System.



ISO certificates 37001 & 37301
Royal HaskoningDHV has supported the UN Global Compact (UNGC) network since 2008 and in 2020 signed the UN Statement for Renewed Global Cooperation. We embrace The Ten UNGC Principles on human rights, labour, environment and anti-corruption  which are integrated in our Global Code of Business Principles. We actively show our commitment to these principles in our tenders and offers and share our principles on integrity and compliance with suppliers and sub-contractors through e-learning. Our activities are reported annually through our Communication on Progress (COP).
Our Global Code of Business Principles
We operate in a variety of cultural, social and business environments across the world. Within all these, we conduct our business according to a universal set of principles, as we believe that society can only be served when all stakeholders act ethically and adhere to The Ten Principles of the UN Global Compact. These are embedded in our daily business through our Code of Business Principles.
The Global Code of Business Principles defines basic, globally applicable standards of conduct and what is expected from employees. We expect our employees to understand the standards of the Global Code of Business Principles as well as the respective local laws and corporate guidelines, to always abide by them, and to attend all mandatory and necessary training sessions.
Managers are responsible for supporting their employees in this endeavour. We also hold our business partners and suppliers to standards for labour practices, human rights, environmental responsibility and business integrity.
Purchasing policy/supplier code of conduct
In 2021, we introduced a sustainable procurement policy in the Netherlands, applicable to all purchases for use within our organisation, excluding those made for client projects. It enables us to purchase in a uniform and sustainable way and covers purchase and maintenance as well as the life cycle use of products and services. The policy favours the selection of suppliers who have embedded sustainable and ethical practices in their organisation and challenges suppliers to reach for the most sustainable solutions at an early stage. With this policy we commit to identify areas of sustainable risk where possible and collaborate with suppliers to reduce this risk. Progress will be included in future CSR reports and new contracts monitored to ensure they meet our guidelines.
In the United Kingdom, supplies and stationery are sourced from a single supplier. Most items on the core list are environmentally friendly.
As a follow-up of the implementation of our third-party assessment tool a year earlier, in 2021 we worked hard to extend the tool to include subcontractors. The tool has been used for all new clients. It includes, among other things, a review of the ultimate beneficial owners, directors and politically exposed persons. We will implement this plan for subcontractors in 2022.  
International Guidelines and Conventions
Besides the UN Global Compact, our Global Code of Business Principles follows guidance on anti-bribery and anti-corruption set out in the OECD Guidelines for Multinational Enterprises, the World Economic Forum Partnering Against Corruption Initiative, the Federation of International Consulting Engineers Code of Ethics and Business Integrity policies, the International Chamber of Commerce rules on Combating Corruption, Anti-Trust and Fair Competition, and the Transparency International recommendations.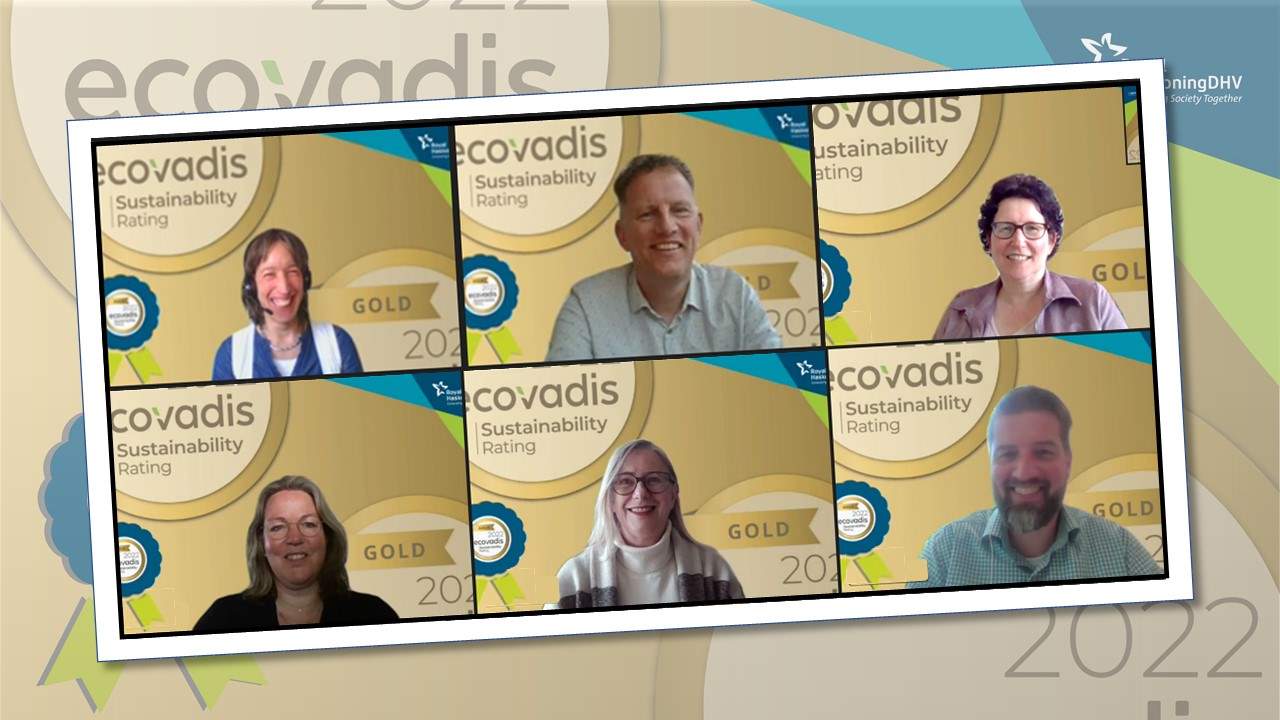 Colleagues celebrating the obtained EcoVadis gold medal in 2021 for the sixth consecutive year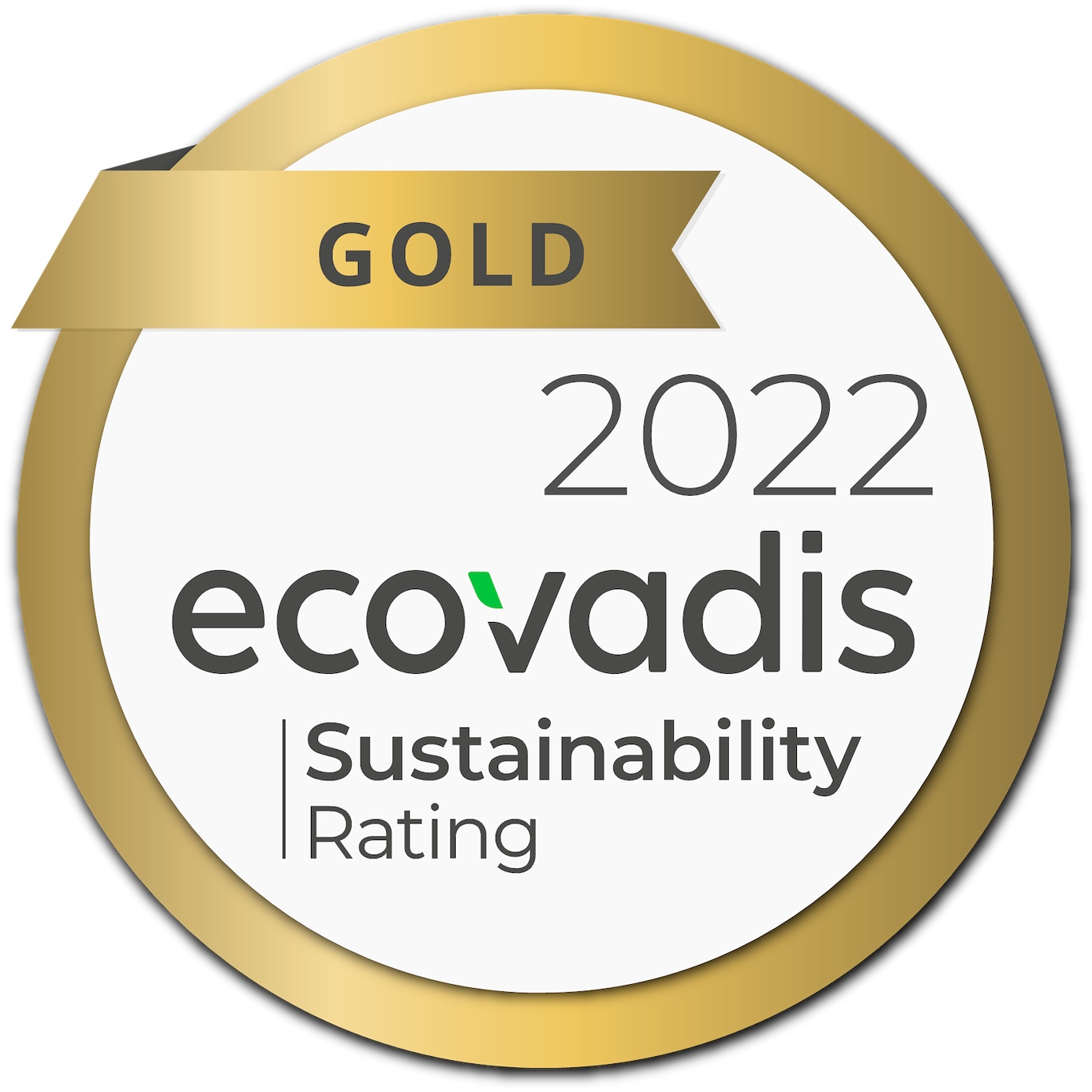 We are proud to receive the Gold medal from universal sustainability ratings provider EcoVadis. EcoVadis assessed our Corporate Social Responsibility practices in 2021 and awarded Royal HaskoningDHV Group the Gold medal for the sixth consecutive year.
The company's Global Supply Chain Rating is highly valued in the industry and illustrates the performance of more than 40,000 companies worldwide rated by EcoVadis. The index places our company in the top 2% of architectural and engineering firms and in the top 5% for overall CSR-performance among all businesses rated.

The Gold medal covers international standards on sustainable development like ISO 26000, UN Global Compact and Global Reporting Standards (view our GRI table here). The assessment includes environment, labour practices & human rights, fair business practices, anti-corruption and sustainable procurement. Our EcoVadis CSR Performance details, including a Score Card Summary, are available on our website.
Leadership in project information management processes
In carrying out our projects we comply with local applicable anti-corruption legislation, EU legislation and rules for firms on competition, human rights and anti-corruption. The extra-territorial governance of the UK Bribery Act and the US Foreign Corrupt Practices Act apply in all our entities worldwide since they affect our entities based in the United Kingdom and United States, as well as staff originating from those countries and projects initiated in them.
The UK Modern Slavery Act sets the direction of our worldwide approach against child labour, any other form of forced labour and human trafficking.
The EU General Data Protection Regulation applies to all our entities worldwide since Royal HaskoningDHV is organised in global operating business lines and our projects are executed globally.