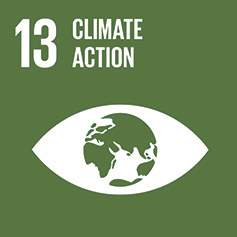 As greenhouse gas levels continue to climb, climate change is occurring at much higher rates than anticipated, and its effects are evident worldwide. By addressing climate change, we can build a sustainable world for everyone. But urgent action is necessary. Climate action has many focus areas but particularly important for our organisation is our carbon footprint. This is the key indicator of the impact of our activities on the environment and on climate change.
To contribute to SDG13 (Climate Action) we continued our carbon footprint reduction ambitions for our operations for 2019. The footprint covers CO2 equivalent greenhouse gas emissions directly caused by our operations and greenhouse gas emissions related to energy and paper consumption in our offices and business travel.
Key figures on our progress
Below are key figures on our progress based on raw data.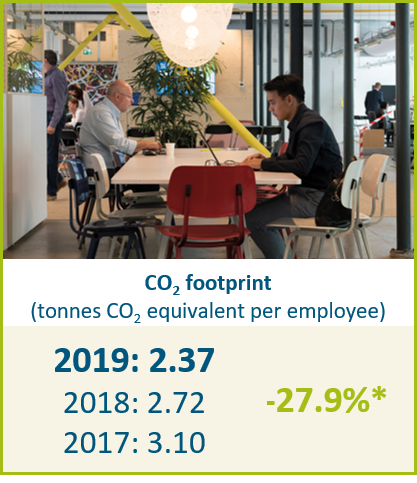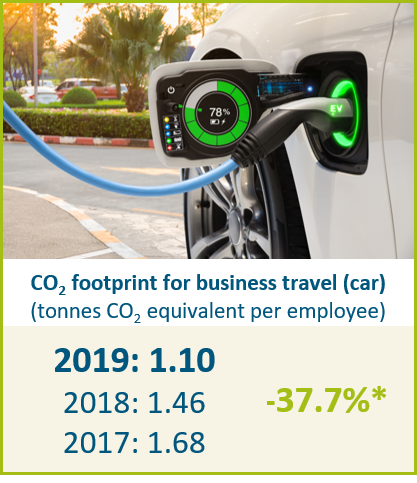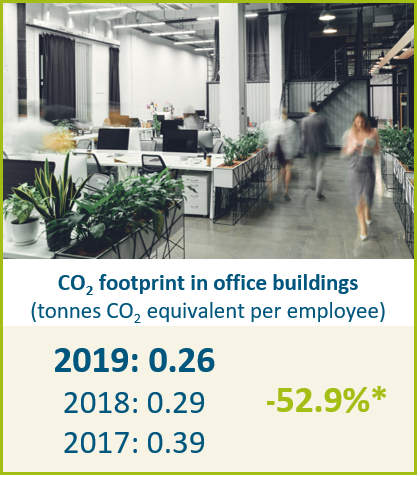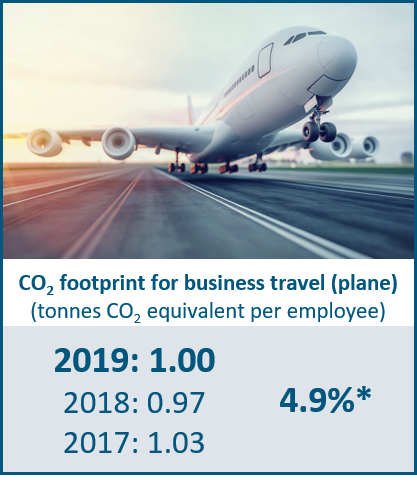 *Reduction results 2019
Progress carbon reduction 
Table: Carbon footprint reduction targets 2019
Reduction carbon footprint

Reduction target 2019*

Reduction result 2019

Reduction targets met? / evaluation / actions

Office Buildings

-33%

-52.9%

YES. Reduction was mainly achieved by on-going initiatives to switch to cleaner types of energy (wind and solar) and by reducing our number of offices.

Business travel (excluding flights)

-25%

-37.7%

YES. Reduction was mainly achieved through on-going initiatives like electrifying our lease fleet in the Netherlands and because we again drove fewer business kilometres by car.

Business travel by air (flights)

-2%

4.9%

NO. In absolute numbers (tonnes CO2 equivalent), a small increase was realised (+ 1.9%). However, because of a reduction in the head count (-2.9%) this resulted in an increase of 4.9% per employee. Action: Implement flight reduction programme.

*Reduction in tonnes CO2 per employee compared to base year 2016

Table: Carbon footprint reduction targets
2019

2020

2021*

2022*

Office buildings

-33%

-35%

-38%

-40%

Business travel excluding flights

-25%

-33%

-42%

-50%

Business travel by air (flights)

-2%

-4%

-7%

-10%

* Feasibility of targets for 2021 and 2022 to be reviewed annually in Q4 of 2020 and 2021 and to be adjusted (downwards or upwards) if needed.
CR data collection
The footprint is based on an international CR (Corporate Responsibility) data collection structure and reporting discipline. This tool uses a global emission factor data set based on DEFRA emission factors. In 2019, the reported data covered 85% of our staff (the Netherlands, South Africa, United Kingdom, Indonesia, Poland and India). The weighted average has been applied for remaining staff.
CR data is collected by a team of local staff appointed in participating countries who report annually to our corporate data-manager. Their report is based on measurements (provided by meters or bills, internal registration systems or reports from partners or suppliers, eg travel agencies). Data definitions and the procedure on how to deal with missing data are standardised. If data is not available in time, the previous year's data for that item and period is reported (temporary estimate). In the next quarter, actual figures are provided to replace the estimate. Data reports are screened for accuracy and completeness by one local data provider and by a team of corporate staff. Inconsistencies are reviewed with and by local staff for explanation or correction. This leads to continuous improvement of our data and an increased understanding of our actual impact for local and corporate staff.
CO2-Performance Ladder
In the Netherlands, HaskoningDHV Nederland B.V. is certified at the highest level on the CO2-Performance Ladder. In 2019 we successfully renewed our CO2-Performance Ladder and retained our level 5 certification. This certification scheme stimulates CO2-reduction in our operations and in our projects, through implementing a management system based on four pillars:
Insight: To determine different streams of energy and the carbon footprint of the organisation.

Reduction: To develop ambitious goals for the reduction of CO2 emissions.

Transparency: To structurally communicate organisational policies for CO2 reduction.

Participation: To take part in business sector initiatives regarding the reduction of carbon emissions.
In the CO2-Performance Ladder Annual Report we present the CO2-footprint for the operations of HaskoningDHV Nederland B.V. in 2019, our progress towards our reduction targets and measures we take to reduce our emissions. This progress report (including an English summary) is available on our website.
Business travel/Mobility
Our focus on sustainable mobility is a key route to reducing carbon emissions. We are also reducing the need for travel by providing a virtual working environment enabling employees to work and collaborate independently from a physical location. When travel is necessary, we encourage employees to do so in a more sustainable way to reduce emissions/km and we have been promoting sustainable mobility measures through company-wide communications seeking to motivate people to travel using public transport, and to take part in the Low Car Diet. Among the active participants of the Low Car Diet (around 60), the (fossil) car use during the competition decreased by 51%. Instead, people cycled, carpooled or traveled by public transport.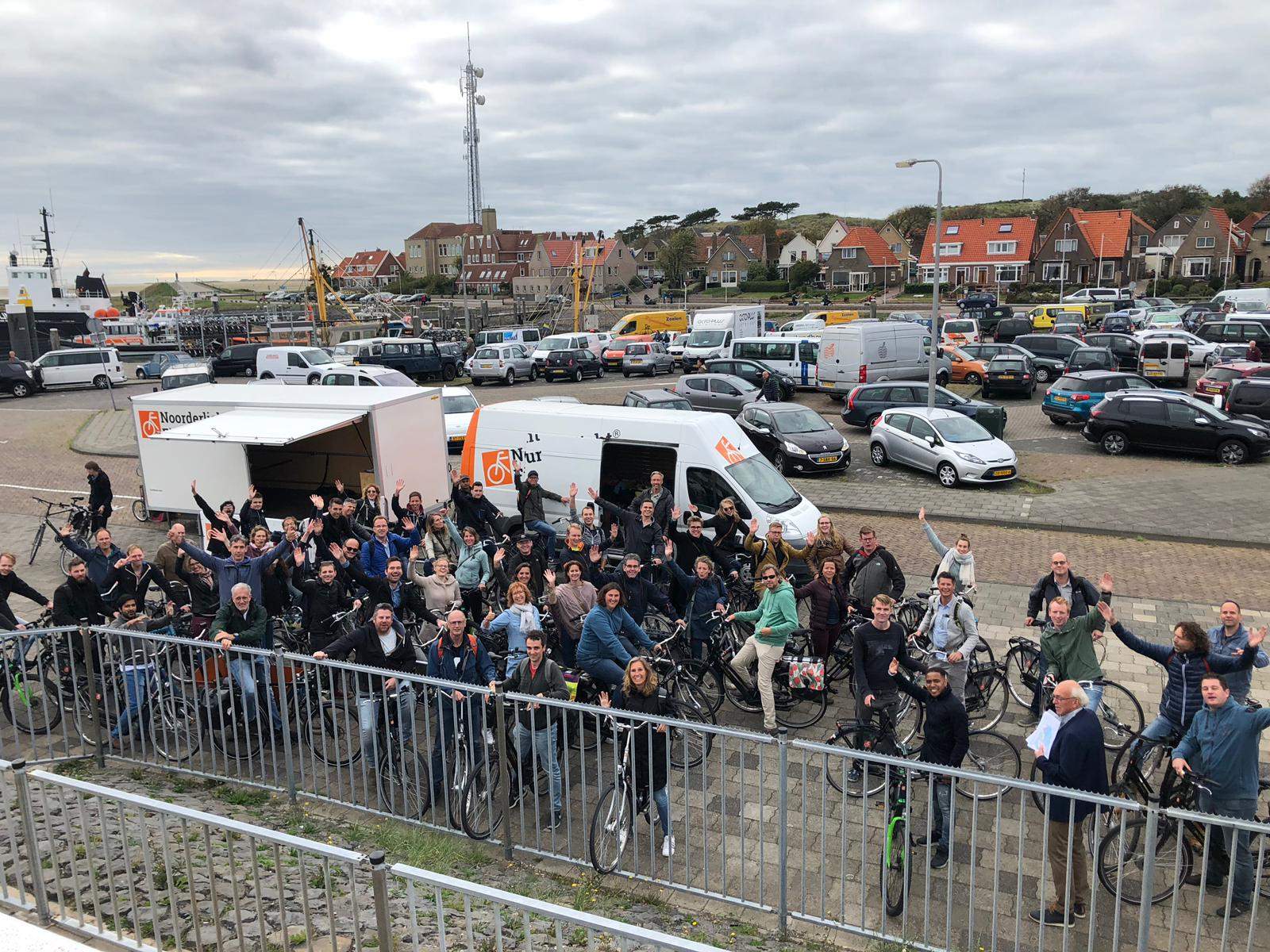 We are also encouraging the use of electric vehicles more widely by sharing our experiences with other companies. Discussions are under way to make our travel policy more sustainable.
100% electric cars
We have increased our electric car fleet by 230% compared to 2018 (124 in 2018 to 285 in 2019). We are on track to achieve our goal of a 100% electric lease fleet in the Netherlands by the end of 2021. Since 2017 we have almost doubled charging point sockets at our offices in the Netherlands to 104 and more than doubled parking spaces with charge points to 130.
We are a member of EV100, a global initiative bringing together forward-looking companies committed to accelerating the transition to electric vehicles. Its 'Progress and Insights Report 2020' highlights the progress that has been made: 340,000 vehicles and 3,200 locations for charging are now committed across 67 member companies in addition to 2.3 million leasing vehicles committed to become net zero. More than 80,000 electric vehicles are already in use within EV100 member companies.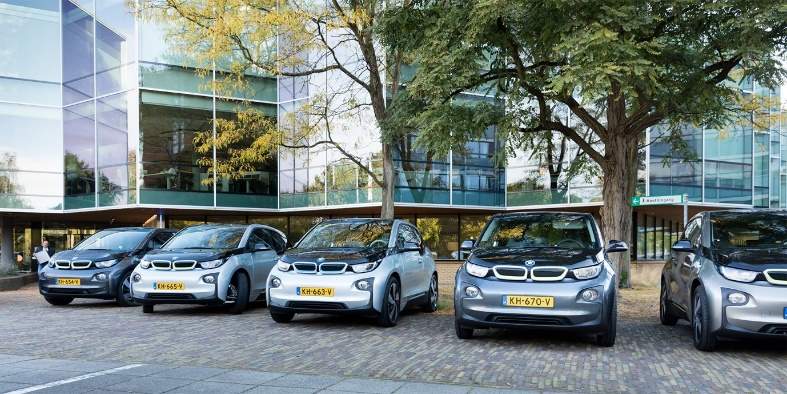 Sustainable Facility Management
We have been working on a wide range of sustainable initiatives in 2019 and developed an office accommodation policy which incorporates ambitions to maximise sustainable possibilities for buildings, uses and control. We aim for our buildings to be CO2 neutral by 2030 at the latest and to support at least one regional SDG. We did an office arrangement pilot in Amersfoort which incorporates a circular approach through re-manufacturing desks, refurbished chairs and reuse of cabinets. The base of the desks and their mechanisms are being re-used and sustainable products used for new parts, preventing nearly 65kg CO2 for each duo-desk. Nearly 80 desks have been re-manufactured in the pilot with dimensions and design adapted to the requirements of new users. Around 40 cabinets have been constructed in the new design and include casing and built-in storage. In 2020 the renovation of the other floors will be completed based on the same principals. Chairs in meeting rooms at our Amersfoort and Utrecht offices are made from recycled PET bottles. 
We have extended the sustainable solution for the disposal of PCs and laptops. We are working towards circular catering, reducing waste and promoting vegetarian food options. It is an ongoing focus for improvement and, as an initial step, we participated in a Don't Eat Animal day and have introduced one meatless day every two weeks. During Sustainability Day in the Netherlands, we presented vegetarian and circular catering products, such as tomato ketchup and soup from 'saved' vegetables, chocolates made from orange peel and products made from mushrooms grown in used coffee grounds.
We have introduced a single solution to recycle all paper from our offices including paper towels and cups. This reduces logistics movements and will still be used as raw material for hygiëne paper. In 2019, we organised a Sustainable Week in offices in the Netherlands to communicate our new sustainable solutions, including initiatives in company restaurants and providing access to bicycle manufacturers.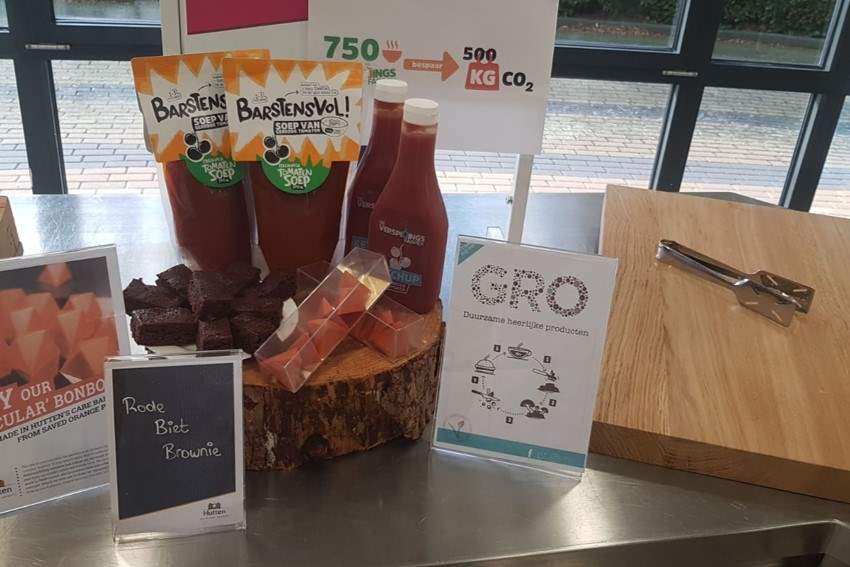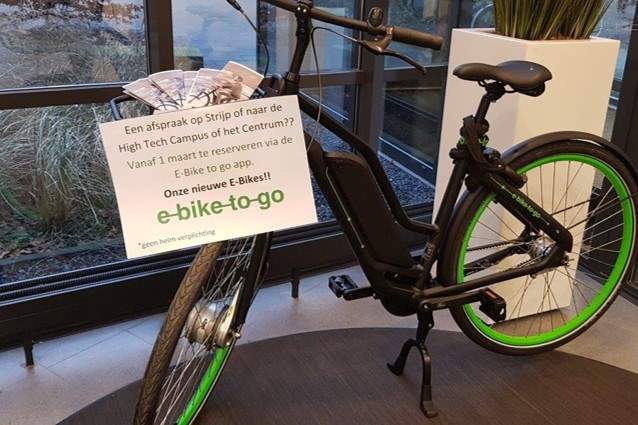 In 2019 we undertook a Fitwel scan of our Amsterdam office. Fitwel is a certification system for healthy buildings which supports the wellbeing of their occupants and encourage healthy communities. It acts as a valuable tool to create and improve the working environment and operates across 12 themes. Our scan indicated our building at Contactweg 47 is currently eligible for a 1-star Fitwel Certificate. It scored well on location, building access, stairs, workspaces, water supply, food and emergency preparedness. With a number of adjustments, a 2-star certification is easily within reach.
Vietnam is Going Green
The rapid growth in Vietnam's economy is raising living standards for local people but also bringing environmental challenges. Air and plastic pollution are key issues as well as the country's carbon footprint. In our Vietnam office, a team of environmental enthusiasts have set up a Green Team to come up with practical ideas to make office operations more sustainable and contribute to a better future in Vietnam. The team identified four themes: carbon footprint, energy consumption, plastic waste and employee's physical and mental health. Initial action has involved banning single-use plastic water bottles from the office and introducing measures to reduce printing. In December, 200 trees were planted outside Ho Chi Minh city – one for each employee – in what is hoped will become an annual activity to help absorb carbon produced through office activities. The programme will be developed further in 2020 and includes plans to reduce air mileage through increased awareness.