Stakeholder engagement for innovation
On innovation and co-creation, we have held open discussions with Fortune 500 companies to talk about their challenges, how they go about innovation and what we can do through our mixture of digital capabilities and engineering expertise to create solutions to address their increasingly complex problems. Co-creation workshops were also held with organisations including the Ministry of Internal Affairs, NACO (a company of Royal HaskoningDHV), Google and Rabobank. Feedback from these sessions indicated that Royal HaskoningDHV is at the cutting edge of co-creation and leading in terms of innovation and digitalisation.
Hacking health event
We facilitated the "Hacking Health" event in Amsterdam by making our open office space available along with innovation coaches, data scientists and workshop facilitators. The event provided an open invitation to anyone associated with health and attracted doctors, policymakers, engineering consultants, data hackers, students and members of the public. Lots of people pitched ideas and teams were formed which collectively came up with nearly 20 pitches at the end of the two-day event which was full of energy and excitement. Some of these ideas have now moved into our innovation funnel.
Helping stakeholders understand the impact of engineering projects with iReport
As part of our digital ways of working, we have been pioneering the use of technology to help stakeholders better understand the impact of engineering projects where engagement and impact assessment are key. Our iReport is a digital tool which presents information in a visual and dynamic way to lead to highly informed decision making. It was launched in March 2017 as a digital Environmental Impact Statement, developed with the Ministry of Infrastructure & Environment in the Netherlands. It has since been updated based on client feedback and has been revolutionising stakeholder engagement in projects across the world. In 2019, it won the Innovation in Impact Assessment Award in the IEMA Sustainability Impact Awards, designed to celebrate people and businesses that are driving sustainability initiatives worldwide. Judges noted how collaboration with multiple stakeholders had ensured a robust and consistent approach which can withstand the scrutiny to which Environmental Statements are subjected. It replaces long, complex documents with a platform which enables people to navigate through the information in their own way and uses a broad range of tools to drive faster and clearer understanding.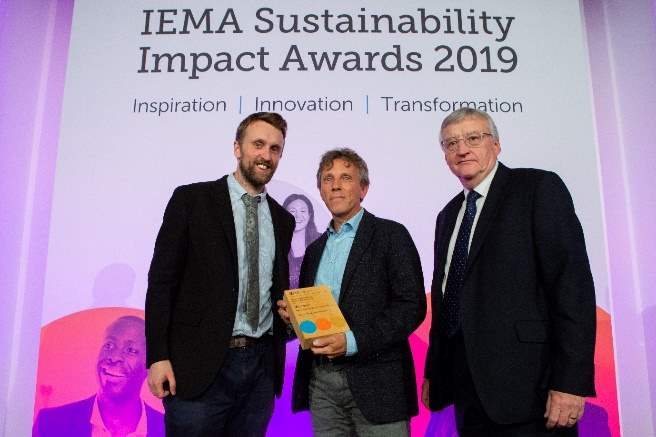 Aligning stakeholders and boosting decision-making with augmented reality
Augmented reality is providing a new method of engaging stakeholders and demonstrating the reality of future plans. We are using it to project lifelike holograms of future structures into existing environments. As such, stakeholders are much more capable of grasping the implications of a design. Our holograms are bringing stakeholders together and speeding decision-making. In the future we will be able to enhance and modify them on the spot, based on stakeholder feedback. In Heerlen, we transformed thousands of residents into excited ambassadors for their new railway station. For Waternet, we enabled senior decision-makers from various organisations to approve a complex water installation in a single afternoon.