Royal HaskoningDHV acts ethically and with transparency in our business dealings. We have a zero tolerance towards bribery and corruption, and we aim to meet and surpass standards for international best practices. Our commitment to decent behaviour and integrity is an integral part of our culture, rooted in our vision, mission and core values. Integrity is communicated through our Global Code of Business Principles and our Integrity Management System, which are ultimately owned by the Executive Board.
Governance structure for Compliance Department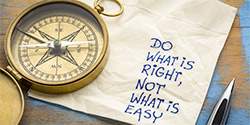 The Compliance Department is responsible for our Integrity Management System which safeguards the integrity of Royal HaskoningDHV and its employees. The department consists of the Group Compliance Officer and Local Compliance Officers, who are the local representatives. The Group Compliance Officer reports to the Executive Board and has the authority to escalate any serious matter to the Supervisory Board.