Sustainable facility management
We encourage colleagues to use office resources in a sustainable way and promote the following motto across all our offices: Together we can contribute to a sustainable work environment. We have developed a model to reduce waste in our offices, acting in line with the 5Rs and Lansink's ladder.
The focus of our policy is Refuse, Reduce, Reuse, Recycle, Rot. We aim to prevent the creation of waste. If we do have waste, we try to dispose of it in a way which extracts as much value from it as possible and prevents landfill waste. In 2021, we will start measuring the amount of waste produced within each category and set targets to reduce waste. After evaluation, we will consider implementing the 10R model for improving circular usage across our global organisation.
Reducing and recycling paper and other small waste flows
Initiatives such as two-sided and follow-me printing are helping to reduce paper usage in our offices. Photocopiers are programmed for duplex and follow-me printing. Less waste was generated in our offices in 2020 due to Covid-19 and we reduced the frequency of waste collection which further lowered CO2 emissions.
In the Netherlands, waste paper, cardboard and paper cups are collected in designated bins. Our cleaning company, working with partners, ensures the paper is removed, sorted and successfully processed into toilet paper. By separating our paper waste stream from residual waste, more than 40,000 kg CO2 were saved in 2020. In addition, the significant drop in materials used due to Covid-19 saved more than 7,000 kg CO2. Other small waste streams such as plastic, tin and drink cartons, frying fat and coffee grounds, are collected separately by another waste processing company for various new uses or recycling measures.
Our coffee machines are adjusted to a sustainable energy consumption and we have opted to use sustainable (UTZ) coffee and tea. Our cups contain less print work, making it better suited for reuse. Names can be written on the cup, enabling it to be used at least four times. The coffee grounds are collected separately at locations where we manage the disposal of waste ourselves, and used as raw materials for, among other things, bio-pellets.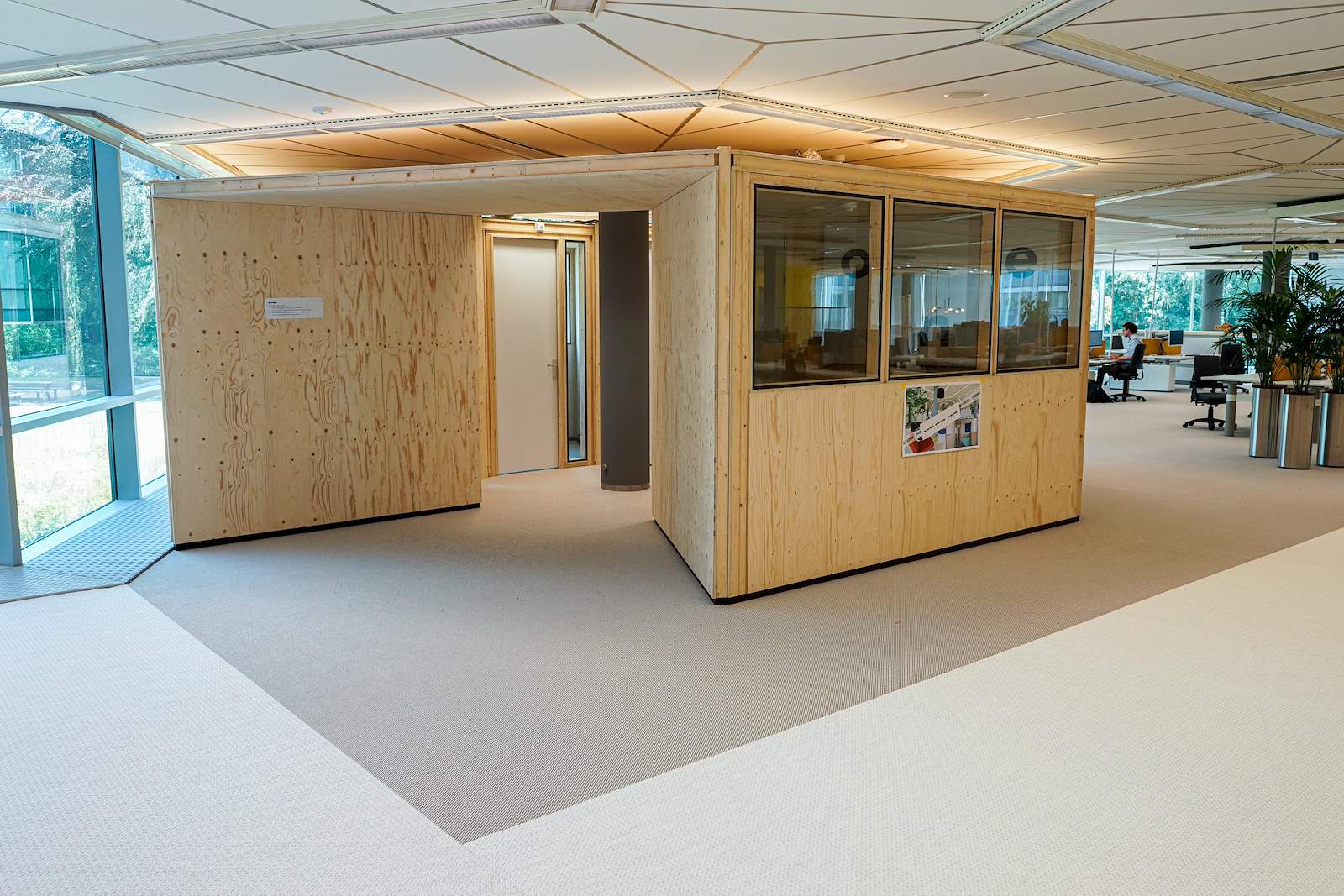 Sustainable use of ICT hardware
In 2020 our Green Deal arrangement continued with D-Two concerning ICT hardware which has become obsolete. D-Two focuses on the reuse and recycling of ICT hardware, the financial benefits for the customer and, equally important, providing a learning-work experience to people who are habitually excluded from the labour market. A job coach participates in the organisation's working process, coaching all staff in their daily jobs. An important step in the reuse and recycling procedure is data wiping in a certified process. Systems that can not be reused are collected, de-assembled and offered to certified recyclers. These recyclers are obliged to reuse residual materials as much as possible. D-Two is also involved in workplace services for our company. For example, D-Two employees supported us with the fit-out of IT equipment for workspaces in our new Groningen office and refurbished Amersfoort office.
Table: Returned devices via our partner D-Two per year
| | | | | |
| --- | --- | --- | --- | --- |
| | 2020  | 2019  | 2018  | 2017  |
| Desktops | 33 | 28 | 26 | 60 |
| Laptops | 471 | 686 | 707 | 698 |
| Monitors | 186 | 85 | 137 | 557 |
| Other hardware | 938 | 952 | 534 | 515 |
Sustainable office supplies in the Netherlands
We changed the ordering process for supplies in our Amersfoort office from March 2020 to increase sustainability. Stock for supply cupboards is managed by the supplier. All packaging is taken back and a selection of 'green' articles – including text markers, pens and notebooks – have been introduced. These items are made of 68-90% recycled materials. In future, the supplier will replenish stock once a week, meaning fewer CO2 emissions. This new process is expected to be rolled out to other offices during 2021.
Circularity achieved in the reuse of furniture
All furniture that we can no longer use in our offices is being reused. First, we check whether it can be used at other Royal HaskoningDHV locations. This resulted in furniture from our Amersfoort refurbishment being used in our Goes office, and furniture no long required in Nijmegen is now in use in Rotterdam. Some furniture from Amersfoort is used in our new Groningen office. In Goes all the deskblades were replaced and desk dividers made from the old blades. Old chairs that can no longer be revitalised are taken back and recycled by our supplier.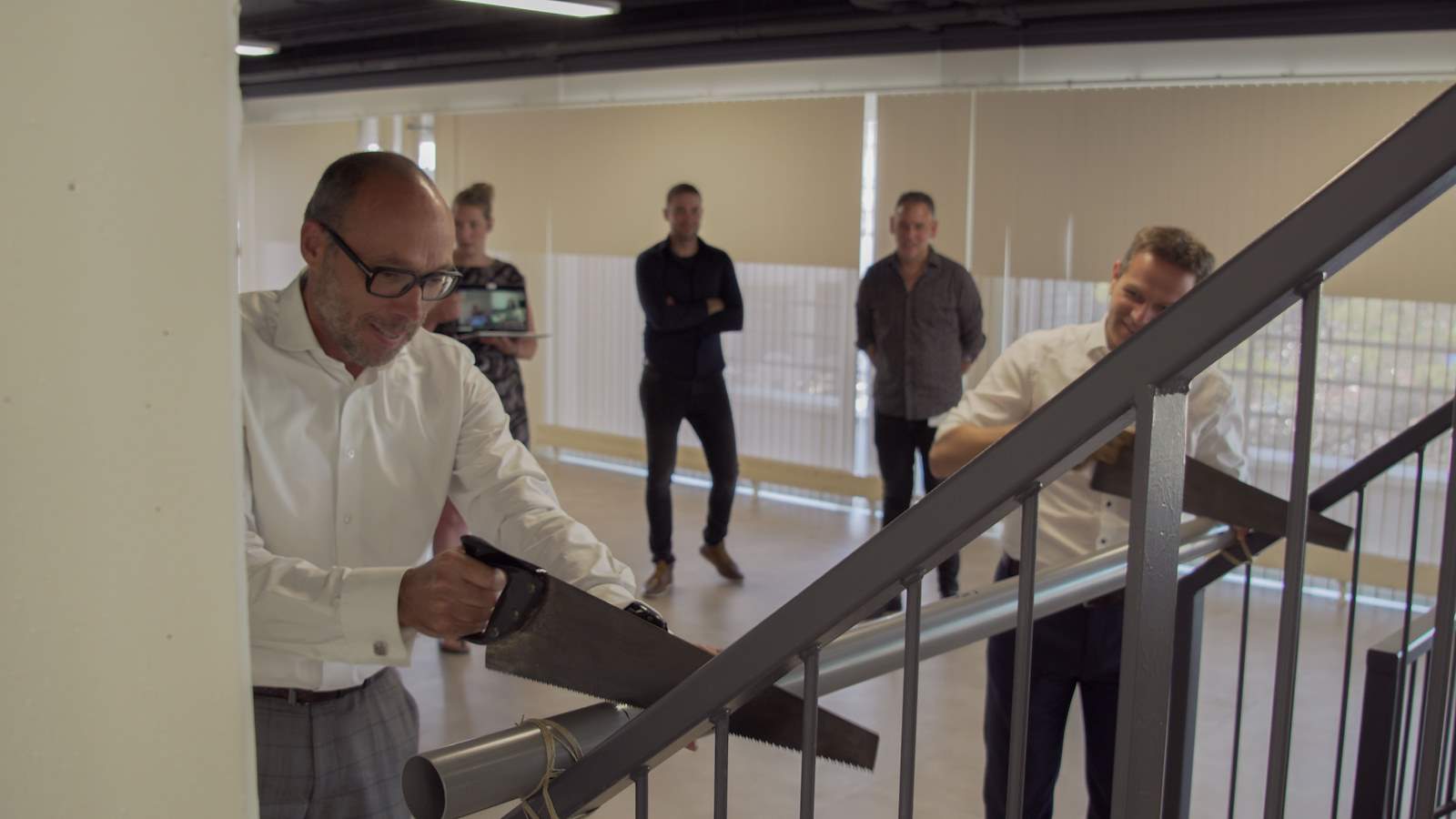 Raising awareness among colleagues
Sustainability Day in the Netherlands was an opportunity for us to raise awareness about our RSB approach and actions we are taking. One of the initiatives was a week without meat when limited meat was served in restaurants at our offices in The Hague, Eindhoven, Amersfoort and Rotterdam, and an expanded range of vegetarian alternatives offered instead. Feedback was received from 357 colleagues, of which 55% was positive (2019). Based on these results and in pursuit of our sustainability goals, we have challenged our caterers to offer more vegetarian alternatives.
On Sustainability Day, we also encouraged all our colleagues to reflect on and share how they contribute to sustainability in their personal lives. One colleague described volunteering for Schone Rivieren (clean rivers) to analyse sections of a river and record the kinds of waste on the banks. Our colleague is working with a partner on a 100m stretch of the river Merwede in the Greater Rotterdam region analysing and removing the waste that appears along that stretch.