Partnerships for Sustainable Procurement
We strive for lasting relationships with reliable partners and have high expectations from our suppliers. Suppliers may expect a clear, transparent and honest attitude from us and must comply with our Business Principles for our Partners and Suppliers. We aim for our suppliers to work as sustainably as possible, which can be in reflected in the product and in aspects of the organisation. Other examples of our contribution to sustainability are Community Engagement, Circular Economy and Social Return.
We updated our general purchase conditions in 2020. These conditions contain requirements connected to our Responsible and Sustainable Business (RSB) approach and compliance with the Global Code of Business Principles for Partners and Suppliers since March 2013. By accepting these conditions, our suppliers are supporting the RSB goals of Royal HaskoningDHV. We seek to work as much as possible according to our terms, but unfortunately, it is not always possible because of the terms of our supplier. Alongside these terms, we aim to select suppliers that can contribute to our goals. Furthermore we updated our Contract Management Database to ease monitoring of our RSB requirements for our suppliers.
Circularity as part of our procurement policy
In 2013, we signed up to participate in the first Green Deal Circular Procurement (GDCI). Since then, as a company together with our suppliers, we have incorporated various circular and sustainable solutions into processes, products and projects. We are proud of the results we have achieved with the team so far and look forward to the next circular steps that we will take in the coming years. To find out more, read the article in the online Dutch magazine Green Deal Circular Procurement.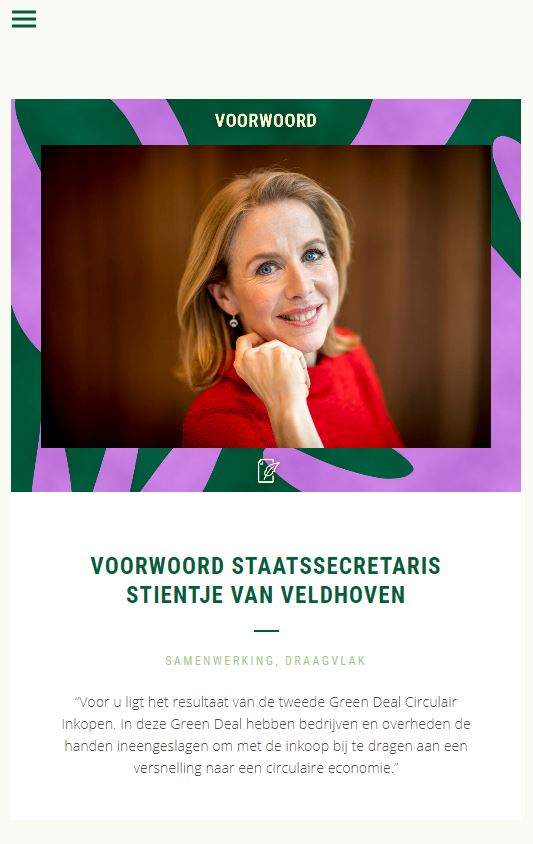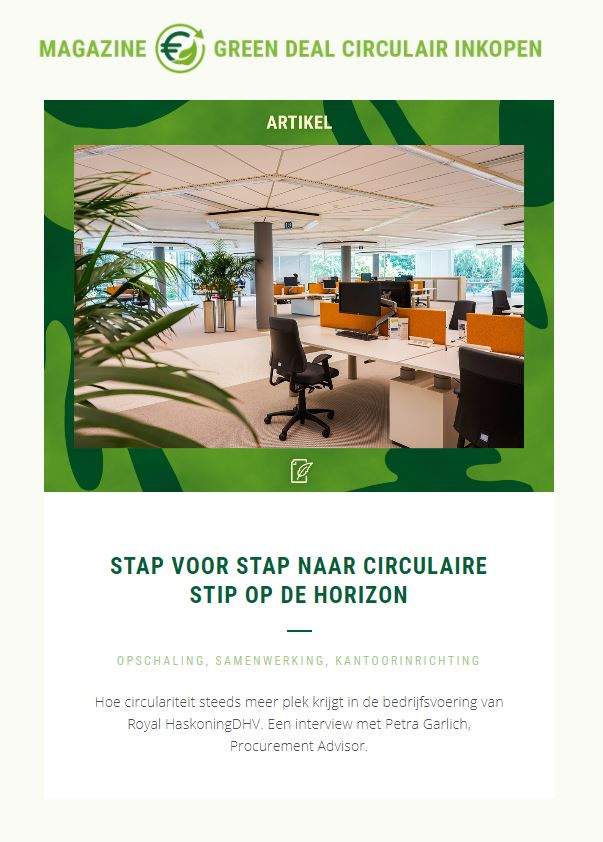 Sustainable Catering in the Netherlands
Our caterer provides company catering at four of our office locations in the Netherlands. We continued our relationship with this sustainable caterer that uses local products and is committed to people who are habitually excluded from the labour market due to low educational achievement, language barriers or other occupational disabilities. At least 50% of the food offered is produced in a sustainable manner and can contribute to the health of the employees. We work in partnerships on measures to decrease food waste by looking for solutions in order options, presentation of products and by offering a 'waste soup' once a week. This soup is made from vegetables from residual flows delivered to De Verspillingsfabriek, a company committed to reduce food waste.
See also our section Sustainable Facility Management 'Raising awareness among our colleagues' for more information on one of our initiatives: a week without meat together with our caterers in restaurants at a selection of our offices in the Netherlands.
Social Return on Investment
In contracts for outsourced services, such as garden maintenance, cleaning and catering, we require a percentage of the personnel hours to be deployed by people who are habitually excluded from the labour market due to low educational achievement, language barriers or other occupational disabilities. Our social return on investment (SROI) was less for catering in 2020 because of Covid-19. However, for office health and hygiene, we arranged for additional guidance to be provided in the necessary ways of working so these contracts could continue safely and at the required quality levels. In contracts for products, we prefer to choose suppliers working with employees who are habitually excluded from the labour market. This has been successful for recycling old and broken IT devices, mail sorting and furniture supplies.
Actions for 2021
We will introduce a Sustainable Procurement Policy aligned to our RSB strategy in 2021.